Easicampers' motorhomes are a fantastic way to journey round the Isle of Skye in Scotland. It can be a fantastic way to experience this beautiful and rugged island. The Isle of Skye is known for its stunning landscapes, including rugged mountains, rolling hills, and picturesque lochs (lakes). The island is also home to a variety of wildlife, including red deer, golden eagles, and otters. Plan an adventure with Easicampers Edinburgh today and book on Easicampers.com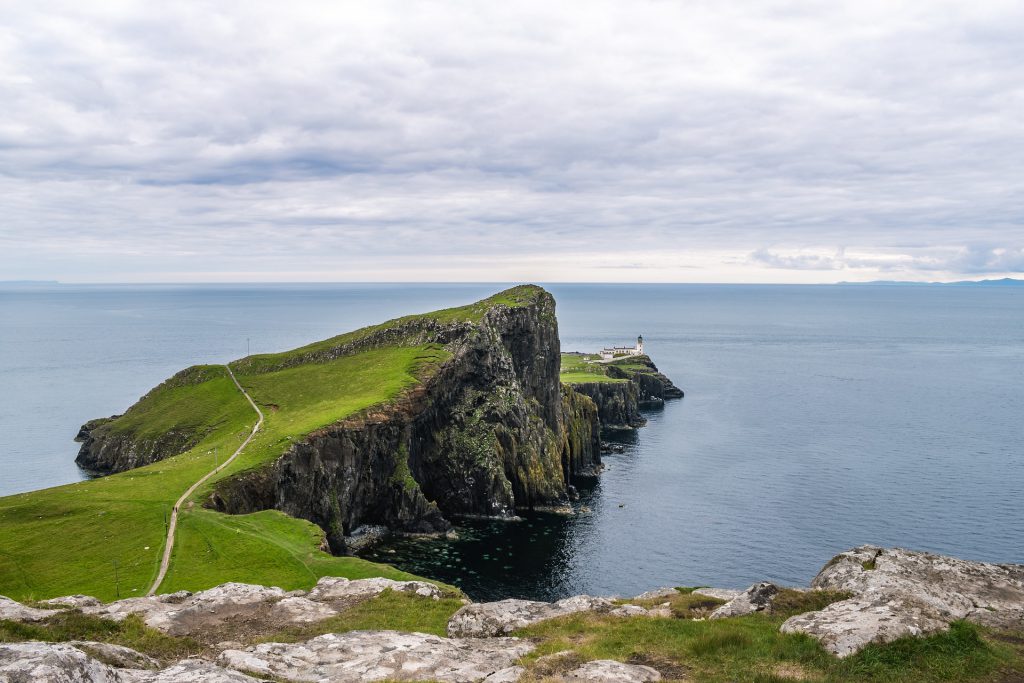 Before embarking on your trip, Easicampers Edinburgh recommends to plan your route and make reservations for overnight stops at campsites. The Isle of Skye has a wide range of campsites to choose from, including traditional campsites with amenities like showers and toilets, and more primitive wild camping spots. Make sure to check the campsite's availability during your trip and book in advance.
Easicampers Edinburgh recommends the first stop on your trip should be the island's capital, Portree. The town is small but charming, with brightly colored houses and a picturesque harbor. Here you'll find a variety of shops and restaurants, as well as the Aros Centre, which has exhibits on the history and culture of the island.
From Portree, take the A87 road to the Quiraing, one of the island's most famous and breathtaking landscapes. The Quiraing is a series of huge rock pinnacles, cliffs and plateaus that are the remains of a massive landslip. Hiking trails take you to the top for incredible views of the surrounding mountains and coast. Plan an adventure with Easicampers Edinburgh today and book on Easicampers.com
Easicampers Edinburgh recommends the next step on your journey to be the Old Man of Storr, a pinnacle of rock that rises out of a hillside on the Trotternish Peninsula. The walk to the Old Man of Storr is a moderate hike, and it takes around 1.5 hours round trip. From the top, you'll be able to see the island's rugged landscapes and the sea beyond.
The Fairy Pools is another must-visit destination on the island, located in the Glenbrittle area on the island's west coast. The Fairy Pools are a series of crystal-clear pools that are fed by waterfalls. The pools are surrounded by beautiful scenery, including the Black Cuillin Mountains. A hike to the pools takes around 1.5 hours round trip.
If you love castles like our staff at Edinburgh Easicampers then Isle of Skye is home to the famous castles, one of the most famous is Dunvegan Castle, the oldest continuously inhabited castle in Scotland, it dates back to the 13th century. It's open to visitors from April to October and the castle has a fascinating history and beautiful gardens.
If you're interested in history and archaeology, head to the island's south end to visit the Iron Age brochs (round towers) of Dun Beag and Dun Borreraig. These ancient structures are some of the best-preserved examples of their kind in Scotland, and offer a glimpse into the island's past.
The Isle of Skye also has some of Scotland's best seafood, be sure to try some local seafood dishes like Cullen skink (a creamy smoked haddock soup) or freshly caught lobster or crab.
In summary, a motorhome trip with Easicampers Edinburgh to the Isle of Skye offers the opportunity to experience some of the most beautiful and rugged landscapes in Scotland, while also immersing yourself in the island's rich history and culture. With a variety of outdoor activities, historic sites, and delicious seafood to enjoy, the Isle of Skye is an ideal destination for a motorhome adventure.
---
Running in the Skye
Legends, landscapes and elements, the Isle of Skye is a summary of Scotland. A setting set
to the full west, from which one does not return unscathed. Fantastic and unexpected,
let's pass the door of the Outer Hebrides: the Skye Trail awaits us.
What if all of Scotland were there? superlative island. Just yesterday, hanging from the
paneling, Skye's map seemed to breathe. A barely grounded gem. It is the end of one Scotland,
and the beginning of another. It therefore has this unique charm of the ends of the world,
suspended like an ultimate tarmac. Isolated and connected, enough but not too much. Look
at its cutout: a chopped flower that hopes for the azimuth. Three peninsulas that go for the
northwest, and lighthouses like Adam's knuckles. Michelangelo in a kilt? Skye's hand reaches
out to the Outer Hebrides, and closes the Inner. End of story, the choice is yours: either you
stay or you embark and then enter Lewis and Harris. Another world, another nugget, but
beyond that nothing more. Oh yes, there is Iceland 800km away. Skye smiles knowing she's
beautiful and rare, but still true. Skye? could be a star (pun at 112 ITRA), or a snobbish film
set. No despair in this end of Scotland, no farewell to the land. Take an elaborate breastplate,
and tie it loosely around the neck of the Highlands: just a strand, and here is the island in
balance via 500 m of bridge. However, this delicate pebble contains everything. Crests,
megaliths, horizons, furious waters, 5-star singletracks, and a trace that we would not dare to
dream of: the Skye Trail is 130km long, invites you to train and has been watching us for 8
years. 8 years of waiting and here it is at 40 minutes. Skye, or when the map sublimates the
territory. So this morning, we don't turn around when boarding.
And for us, all began in a van, with the help of Hanley's family's company : Easicampers, and
the road is pure beauty. Once again, Teddy is waiting for us, and will open up our minds to
new Scottish realities – by a roadtrip-motorhome discovery… "Hi, Pal. You know how to drive,
I guess ? Bring us back some wonderful views…asap".
Behind us ? some straws – thin metal. The ice of Ben Nevis (1345m) which smokes under the
dawn. The Sgùrr Na Ciche (1040m) and the Ladhar Bheinn (1020m) plated gold, bursting the
mist; and the sloshing ferry. A cinemascope of marine travel, the ending Highlands offer
themselves in silence – take your time, captain. We reach Armadale as others take the bus,
but this one looks up; lochs Nevis and Hourn have done their job well, patiently digging the
ocean tomb of Christophe Lambert. Yesterday, the Highlands took our van from the east coast
to the west coast of Scotland. Each his own California; I prefer this Wild West there. To reach
Skye, two springboards; the boat or the road. Trailer-backpacker, choose your camp to remain
discreet; it will be a naval atmosphere to touch Skye as gently as possible, almost a caress
before rolling towards the bay of Elgol. Single roads, dead ends? I don't care, my good lady,
"Thanks, but I've already been here". And as a good self-esteemed frouze, tells me about it, a
connoisseur in tartan, with a muffled step like the owner of the place. Broken rifle or pipe in
mouth, I imagine; on the other hand I have my beautiful lycra for when the weather is nice.
French cicada fluttering. And then it happens. The horizon opens with a shock. Peaks in sight.
And I have to sit down.
No, I didn't remember Skye. The ridge picks me up like a tender blue, when it emerges full
face. Tear in the sky, red and black without a singer, the 950m Sgùrr stand up in army and
refrain from crushing me. Alasdair, Dearg, Na Banachdaich, Nan Gillean; the consonants rain
down, a Basque would be ashamed, the rock splashes on me and the mountain explodes on
me. Two giant paws in an arc ready to lock you in the bay; or marinate in their lochs Coruisk
and Na Creitheach. I had forgotten. Did I know, deep down? Happé-ému (ITRA 143), I have the
chochotte geographite and the artichoke heart of the crazy relief; and tremble with Scottish
love. I fly and re-fly. By my Celtic gods, by Verdana, Verbena and all the word fonts, it is the
Cuillin Hills that form this crater and show the way. "In the North, climb north to come back
to us in 8 days". It is a reunion with unsuspected emotion. At the time of northern full throttle,
I keep a small tear as a talisman, and the bruise of my euphoria in a delicious sore. But the
program is vast: I wanted to see Skye again, I hailed its southern cove and its stone giants. But
now, if 60 km separate me from Duntulm, it will be 128 which will welcome my pumps from
Rubah Hunish to Broadford. And a second salute to Elgol, skyrace style (very) tense. 4 p.m., it
is dark.
I will never get used to the Scottish brunette. Here, around the 57° north parallel, the aurora
borealis undulate during nights from 5 p.m., as for the days… you will have calculated. With
65 km by 78, the island is as compact as it is dense. Yes, nothing to do: like a higher notch, one
more intensity. Skye is vibrant ore. Myths and legends hide under each stone, the petrified
Old Man of Storr watches the appearance of the witch Cailleach Bearrach. The p he oldest
rocks in the world murmur under 24 layers of lava. The case is small, so it becomes a
magnifying glass and a marvel. Fairies were partying in the Fairy Pools, while tectonics lifted
two ridges (Cuillin Hills and Quiraing) and a Lost World setting. Elric the Necromancer meets
there in a tank top, the hobbits run minimalized… in short. There's heaven in there, and
surprise at every turn. And then there's fellrunning.
Talk to him Skye, twists and turns and fell (…), and Neil Turner will offer you dual citizenship.
Better than a PACS, an eternal and solid friendship like a Ben Nevis Race. Or that these classics
of mountain running with Scottish sauce, which would send the Dolomites back to a treadmill.
Fell? "hill" in English. But also mud. Snow, peat, wind, rain, dirt, pain, lactic, worse than that.
Difficult, what. But above all "pure". Beautiful, original, humble. True: to a summit you will
climb, the first you will come down. A pint (and all our respect, and here that means
something) you will win. And somehow, eternal: "Trail and fell are still mountain running, and
after all these years, I still don't have the words to describe the fullness experienced. But there
is something really different with fellrunning. Perhaps the outline, the idea of going as straight
and quickly as possible to the summit. Regardless of the terrain, the lack of a trail. In this, I
find exactly the soul of my island. Skye…it really is a land to be understood by trotting. Like a
hospitality from the ground". The best are not mistaken. For 10 years, Neil and his team have
organized the legendary Trotternish Ridge Race and Glamaig Hill Race, some of the toughest
races in Scotland and part of the national championships.
8.00 a.m. The Rubah lighthouse is now far away, and the Trotternish ridge blew us away for
more than 20km. From reserves to waterfalls, the trail lists the most famous spots – quite
simply. Running here is like running along a sag. Trot in high gear, when the lower one sits 500
meters below. And always this sensation of buzzing, low frequencies, tripaille tellurism or
Tibetan mantra. Either the stone is the cause, or men were turned into rock. The breaks follow
one another because the decor is touching: the scale is human, Skye peaks at 1700 km2,
culminates at less than 1000 meters, and enjoys the harmony of the little one. How precious
are these places whose scenography would have been designed for us. I mean "me". But the
click of a carabiner expels me, the Old Man of Storr hooks his first climber of the day, and 15
km remain until Portree; halfway to Elgol. Back to the coast to reach the big city (3000 souls)
which takes a Celtic nap, and sends me back to the foot of Ben Tanahaig: 413m, the bar of 150
prominence* is crossed, so we call it a marylin. Definitely, I love Scotland and the words of its
bumps. I taste his fell, marylins and munros**. Speaking of munros, I've been obsessed with
a dragon crest for 2 hours, far away. The Cuillins approach.
Because past Sligachan, a jagged horseshoe traces the horizon. Sligachan? its stone bridge was
designed for gambling. Choice n°1: follow the Skye Trail to go straight. Go along the River
Sligachan and run 20 km panoramic without D+. But above all, above all, make yourself small
and silent at the bottom of the valley: you brush against the colossi. Marsco on the left (736m),
Sgùrr Nan Gillean on the right. Walk in the garden of the gods. Choice #2: Barely veer to
go…Skye-run those Cuillins. Don't beat around the bush. The Sgùrr only ask; technicality and
the sun oblige, but without a rope. It's a safe bet that the howling wind will blow your breath
away. But what is this final cliff? error ? supreme oblivion. Jeff Smith had however warned
me: "350m of feet-hands on a very simple slope. Easy, but be careful. At worst you slip, and
splash 15 meters down. Don't do the distilleries the day before, that's all." Thank you Jeff, I
still have 30 minutes of daylight and a shortcut to Blà Bheinn (930m). Broadford is waiting for
me 35 km away, and it already smells of peat fire and hops. But next year, we promise; tonight
the road is beautiful to finish undulating.
From the ocean to snowy peaks, I realize I have climbed almost 5000 meters. Skye, celestoterrestrial showcase to enter Scotland? Last look at a jewelry store, before weighing anchor?
I think back to Jeff's words. "All the natives come back to live there. One day or another. Even
those who wanted to see Auld Reekie***". You surprise me, Jeff. When the counter suddenly
ejects my phone – "vibrate" mode. White fleece, ruddy complexion and Christmas beard:
Captain'Haddock has great class and calls me in video. "So, are you lining up for the 2022 Skye
Ultra Trail? ". I'm thinking about it, Jeff. I'm thinking about it.