---
Tribute 615 Gallery
360 View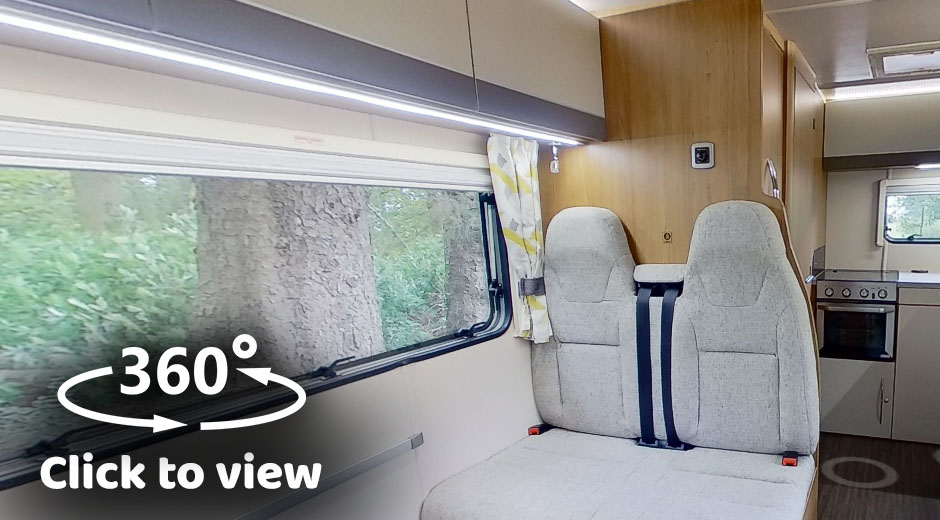 ---
A spacious and agile motorhome for hire
---
Our Auto-Trail T615 Motorhome is bright inside yet also very compact, our hirer's will truly enjoy the best of both worlds. Our Hirer's will also benefit from greater maneuverability on the road from it's Euro 6 engine coupled with its overall length being only under 6.5 metres. As expected, the front seats can swivel around and this coachbuilt motorhome also boasts a huge front seating area, making the Auto-Trail T615 Motorhome Hire great for entertaining.
---
Enjoy a compact coachbuilt layout
---
Did you know the Auto-Trail T615 Motorhome can seat up to six in its central living space? You'll have two long opposing lounge seats which can convert into twin single beds or a generous double bed if you wish. Two additional beds lie above the cab for your convenience.
Our Auto-Trail T615 Motorhome hirer's can be sure of a spacious and well-equipped kitchen across the back. Additionally, there's a combined washroom and WC with a separate shower compartment at the rear.
---
Soft furnishings that are both warm and welcoming
---
The manufacturers of this motorhome understand that active lifestyles require durable fabrics that are easy to clean and very practical. The natural tones of the Tilia upholstery brings a high degree of warmth to the motorhomes' quality living space.
---
TECHNICAL DATA
---
Engine: Fiat Ducato 2300cc multijet 2 , 130bhp. Diesel
Transmission: Six speed manual, right hand drive, Front wheel drive with Power Steering and ABS
Equipment: Radio with multimedia connection. Colour reversing camera, Bluetooth Connectivity, USB port, 2 cab lighter sockets (12v), Cab Air Conditioning. MFD trip information.
Seating: Two in front on captain's seats with 3 point inertia belts, two in rear belted seats,3 point inertia seatbelts.
Remote Central Locking, Drivers airbag, Bottle/ cup Holder with usb point, Internal insulated cab screens
---
HABITATION
---
Sleeping: Over cab double bed, and 2 x single or 1 double transverse bed.
Dining: Passenger seats swivel to face interior. Lounge seating for 6 people.
Fridge: Fridge with freezer compartment- runs on vehicle battery (whilst in motion), 220v mains, or gas.
Cooker: Hob with 3 gas burners, gas grill, gas oven.
Water: 135 litre fresh water tank, draining to 85 litre waste water tank.
Heating: Blown air heating runs on gas.
Lighting: Supremely well lit with LED direct and indirect lighting, also low level night time blue LEDs. Panoramic roof light, double glazed windows with fly screens and blinds.
Storage: via external & internal lockers, high level cupboards and wardrobe with clothes rail.
Bathroom: Electric flush toilet, shower unit & basin. Pumped hot water from gas / electric boiler.(Vehicle must have water in tank to operate correctly)
Energy: Mains hook-up cable. Space for One 6kg butane cylinder included in vehicle (full bottle can be purchased). Solar panel on roof.
---
VEHICLE DIMENSIONS
---
External Width 2.35 m
External Height 3.10 m
External Length 6.34 m
Gross Vehicle Weight 3,500kg
---
VEHICLE INVENTORY
---
• hook up cable
• first aid box
• hose pipe
• whistling kettle
• ignition lighter
• fire blanket
• fire extinguisher
• cutlery
• crockery
IMPORTANT A bottle of gas can be supplied at a small charge