Easicampers provides Campervan Hire and Motorhome Hire in Manchester. Easicampers Manchester branch offers a selection of rental vehicles including the iconic VW campervan and state of the art modern Motorhomes that are perfect for exploring Manchester and the North West
---
Branch Address
---
Ringway Trading Estate
Unit 10,
Shadowmoss Rd,
Wythenshawe,
Manchester
M22 5LH
---
Telephone Numbers / E-mail Address
---
Branch: 0044 (0)161 636 0275
Head Office: 00 44 (0) 1942 778899
E-mail: bookings@easicampers.com
Follow Easicampers on Social Media!
---
---
Collecting Your Campervan or Motorhome from our Manchester Airport Branch
Our branch is 5 minutes away from the airport on Ringway Trading Estate. The quickest way to get there is to jump into a taxi or Uber. They will take you to our branch where your chariot awaits. Alternately we have a free shuttle bus every 20 minutes at each terminal which will take you to the branch.
Please ring one of the following numbers when you are in the luggage collection area:-
Manchester Airport Branch:- 0044 (0)161 636 0275
Motorhome Manager:-Lisa 00 44 (0) 1942 778899
---
MANCHESTER TERMINAL 1
---
As you leave arrivals you can see the board clearly marking "CAR RENTAL BUS". Turn left out of terminal. Turn left and walk about 100 metres until you see BUS STOP D. That is the pick up point by the EASIRENT bus.

---
MANCHESTER TERMINAL 2
---
When leaving Arrivals area turn right and follow signs for Taxi Rank. Exit the building and keep to the right, following the building. Follow the sign for Hotel Buses. Stand C is our collection point every 20 minutes. The bus will have "Easirent.com" on it.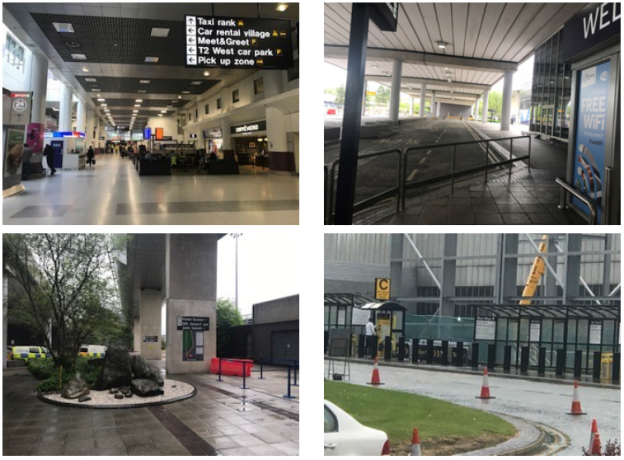 ---
MANCHESTER TERMINAL 3
---
As you exit the baggage claim area take an immediate right and walk to the end of the corridor. Turn right as you leave the building and go to bus stop C. If the bus is not there please ring the branch again, 0044 (0)161 636 0275 and they will give you the approx wait time for the next shuttle bus.
Exploring Manchester
Manchester is one of the UK's largest and most vibrant cities – and while it's probably best known for being home to two of the biggest and most popular football clubs in the world, it's got a real wealth of character and experiences for you to take in – and what better way to take a tour of the city and surrounding area than with a campervan or motorhome hire from Easicampers? With a simple pick-up from Manchester Airport, roaming the city's culture and history on four wheels has never been so comfortable – nor so affordable!
Things to see and do in Manchester
There is plenty to do and see in Manchester. As one of England's most diverse and lively cities, Manchester boasts an ever popular night life and offers opportunities to explore its surrounding landscapes. There is a lot to learn about Manchester's history, for exaample its world-famous Industrial background, its famous music achievements and Sporting success (Manchester United FC and Manchester City FC). There is literally and endless list of things to see, learn and experience.
Just a 15 minute drive away from Manchester City Centre is the Trafford Quays Leisure Village. At the Trafford Quays Leisure Village you can experience a range of activities such as adventure golf, skydiving and skiing – there is also a large children's amusement centre for the younger members of the family.
Manchester has an extensive history, so if you're interested in history you may want to visit a very historic building called the Chetham's Library. Manchester's Chetham's Library dates back to mid 1600's and has the distinction of being the UK's oldest public library. And less than a 10 minute drive away you'll find Ordsall Hall, a Grade I listed Tudor building dating as far back as 1177. Many say Ordsall Hall is haunted, and also carries the rumour of being the location in which Guy Fawkes hatched his plan for the infamous gunpowder plot.
A lot of tourists exploring Manchester and its surrounding towns will no doubt explore the Pennines. The Pennines offer natural beauty, narrow valleys, and beautiful green hills. The Pennines is an absolute must see in your campervan or motorhome! With so much to offer you must experience Greater Manchester and beyond in a Motorhome or VW Camper from Easicampers.
Driving advice for Manchester
Our Easicampers Manchester team have put together some helpful driving advice:
– The A56 (especially Bury New Road) which is to the north of city is one to avoid during the hours of 8AM – 10AM and 4PM to 6PM. We would also relay the same advice for the A6 (especially Buxton Road).
– A very common route is the M62 motorway from Manchester to Leeds (Manchester is very well connected). The M62 Southbound can also take you to Liverpool. We advise you to check the live traffic updates before your travels so you can find out the quickest route to your destination.
– We must advise you that if you're travelling on the M6 motorway, have some spare change to hand as there is toll charges.
– Speed restrictions in Manchester are the same as the rest of the UK. Unless specified otherwise, stick to 70 mph on motorways and dual carriageways. The speed limit can drop to 60 mph on certain carriageways and the standard speed limit on residential roads is 30 mph (or 20 mph where signposted).
– Should you drive into the Pennines or the Lake District National Park wild animals may be crossing roads or be apparent around tight bends so please be vigilant!
Manchester FAQs
Should you have any questions please see our FAQs page or give our friendly rental team a call on 01942 77 88 99
Manchester News
Easicampers Campervans & Motorhomes to Hire in Manchester
Hiring a modern, luxury capervan or motorhome could not be easier with EasiCampers!
Please click on each camper or motorhome for more information.
EasiCampers Manchester Hire Fleet
2 BERTH. Fiat Toleno L motorhome, 2 berth with shower, toilet, kitchen. Can be 2 x single beds or one huge double.
2-4 BERTH. Fiat Tribute 669 motorhome, 4 berth with shower and toilet. Can be 2 x singles or 2 x double beds. We can remove top double bed if required leaving one double bed below.
2-4 BERTH. VW California Automatic T6. Iconic campervan with electric pop up roof. Sleeps 2 upstairs and 2 down. with bike rack and awning. Sleeps 4. No toilet on board but we can provide porta potti.
2-4 BERTH. Auto Trail T615, Luxury 4 berth motorhome sleeps 4 with shower and toilet. One double bed over the cab and 2 x singles in the main cabin.
6 BERTH. Ford Zefiro 675. Luxury motorhome, sleeps 6, shower, toilet, kitchen, bike rack. 1 x double bed over the cab, one double bed in the main cabin, 2 single beds (bunks) at rear of motorhome.
Our friendly hire team will show you around your motorhome or campervan before you drive away.