A Bike Rack is included with this vehicle!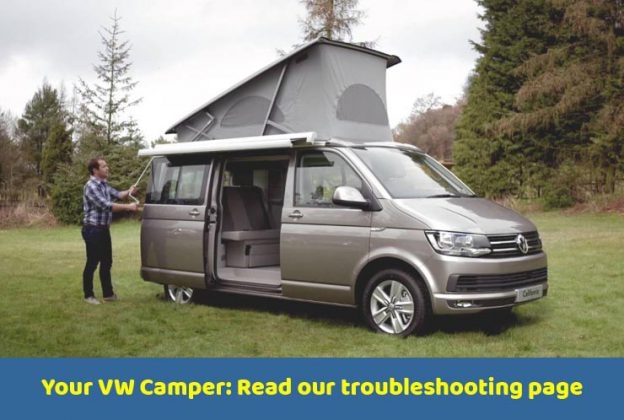 VW Camper Gallery
Recommended Video
---
TECHNICAL DATA
---
Engine: Diesel
Transmission: DSG Automatic Gearbox, right hand drive,
Equipment: Radio with multimedia connection. Bluetooth Connectivity, USB port, 2 cab lighter sockets (12v), Cab Air Conditioning.
Seating: Two in front on captain's seats with 3 point inertia belts, two on rear bench seat with 3 point belts.
---
HABITATION
---
Sleeping: Bench seat turns into lower bed sleeping 2 , Pop up roof bed sleeps 2.
Dining: Fold out dining table. Additional outside dining table supplied (in sliding door)
Fridge: 42 litre warm/cool compact fridge box – runs on vehicle battery (whilst in motion and overnight), 220v mains when hooked up.
Cooker: Hob with 3 gas burners.
Water: 30 litre fresh water tank
Heating: Diesel heater. Vehicle must have ¼ tank of fuel for this to operate.
Lighting: Push Lights
Storage: Internal lockers, and wardrobe with clothes rail, under bench seat storage,
Energy: Mains hook-up cable. One camping gas cylinder included in vehicle (full bottle can be purchased). Fridge and lights run of leisure battery this charges whilst driving.
---
VEHICLE DIMENSIONS
---
External Width 2.25m
External Height 2.20m
External Length 5.3m
Gross Vehicle Weight 3,500kg
---
VEHICLE INVENTORY
---
• Hook Up Cable
• First Aid Box
• Hose Pipe
• Knives
• Forks
• Table Spoons
• Tea Spoons
• Scissors
• Large Knife
• Pans
• Kettle
• Bowls
• Plates
• Beakers
• Mugs
• Ignition Lighter
• Wheel Blocks
• Fire Blanket
• Fire Extinguisher