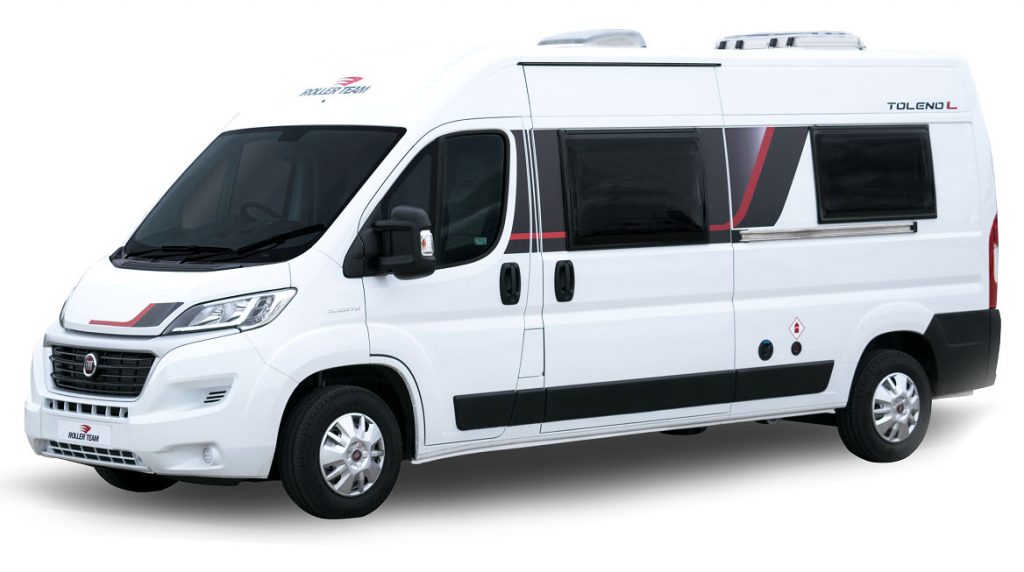 Did you know this motorhome is manufactured in the UK to the national caravan council approval? Not only that but you'll be hiring a vehicle built from the prestigious Trigano empire: Adria, Aut-sleepers, Benimar to name but a few. This vehicle certainly ticks all the boxes from a manufacturing standpoint.
Fiat Toleno Motorhome's are priced from £40,000 GBP upwards but Easicampers offer highly competitive weekly rental rates so you can enjoy luxury at brilliant hire rates. The price tag on this motorhome may have some thinking quality has been compromised but the experts are saying "take a further look".
Toleno Gallery
Check out our 360° images
---
TECHNICAL DATA
---
Engine: Fiat Ducato 115bhp, 2 litre Diesel Engine,.
Transmission: 6 Speed Manual Transmission, PAS, ABS
Equipment: AM/FM Radio with multimedia connection. , USB port, 2 cab lighter sockets (12v), Cab Air Conditioning.
Seating: Two in front on captain's seats which swivel with 3 point inertia belts. Rear camera on interior mirror
---
HABITATION
---
Sleeping: Sleeps 2 with 1 double bed in rear.
Dining/Living area: Rectangular Dining table with space for 2 people with 2 skylights and rear windows. Window blinds for windscreen and side windows
Fridge: Fridge with freezer compartment – runs on vehicle battery (whilst driving) 240 hook up cable for mains charging, LPG Auto Gas supply for when no hook up available.
Bathroom: Shower and Toilet
Cooker: Hob with 2 gas burners. Integrated microwave oven
Water: 70 litre fresh water tank. Cold running water in Kitchen and Bathroom, 70 litre grey water waste tank.
Heating: LPG Auto gas tank for hot water and central heating for vehicle. This can only be used when vehicle is stationary.
Lighting: 12v Low energy lighting all around interior of vehicle
Storage: Internal lockers, and wardrobe with clothes rail.
Energy: Mains hook-up cable.25 litre underslung LPG tank (full tank can be purchased prior to arrival).Fridge runs of leisure battery this charges whilst driving.
---
VEHICLE DIMENSIONS
---
External Width 2.27m
External Height 2.68m
External Length 5.99m
Gross Vehicle Weight 3,500kg
---
VEHICLE INVENTORY
---
• hook up cable
• first aid box
• hose pipe
• whistling kettle
• ignition lighter
• fire blanket
• fire extinguisher
• cutlery
• crockery
IMPORTANT A bottle of gas can be supplied at a small charge
Our Toleno Reviews
Just returned from a 10 day trip of Scotland, what a beautiful country! So much to see and do. We picked up a Roller Team Toleno L from Edinburgh. It's so easy, just hop onto the free shuttle bus and it takes you to the pick up point. Ted was so helpful and welcoming and in no time at all we were on our way. The fleet of vehicles they have are all new and in great condition. The company are great to deal with, very attentive and answer any queries in good time. I would recommend them without any doubt and will definitely use again one day, so Ted please open up that depot in the Midlands!
Comments by LW
It was my first and very nice experience with Easicampers. Contact with the staff was very quick and nice, camper was new and clean inside, with everything we needed. Transport from the airport with a free shuttle bus. Everything problem- free. I can recommend Easicampers and traveling in a camper across beautiful Scotland!
Comments by PG