IMPORTANT A bottle of gas can be supplied at a small charge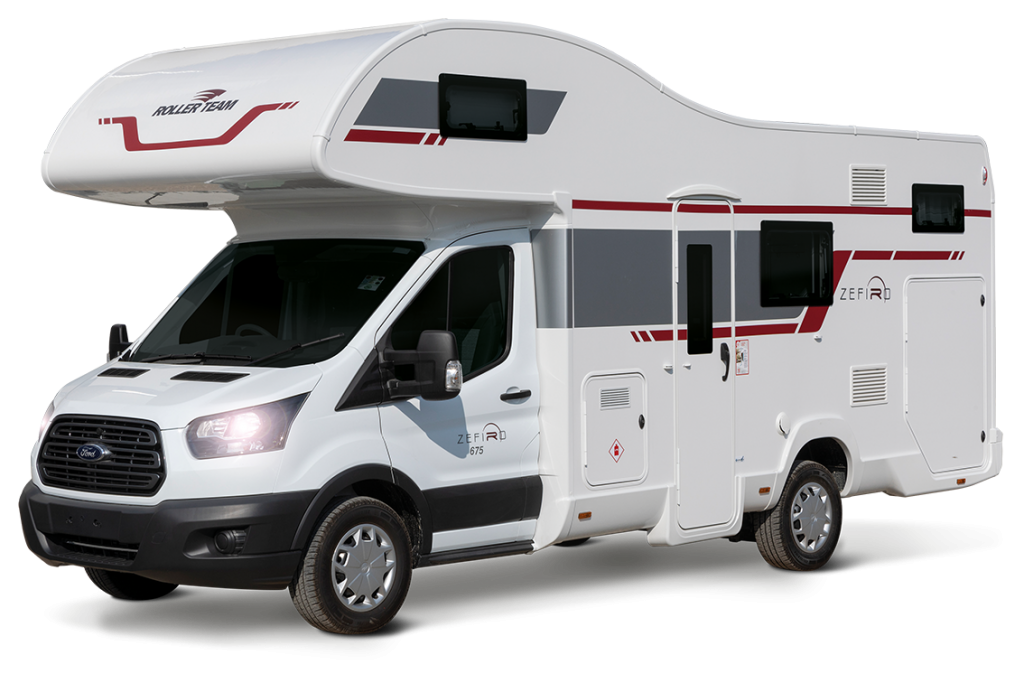 Ford Zefiro Gallery
360 View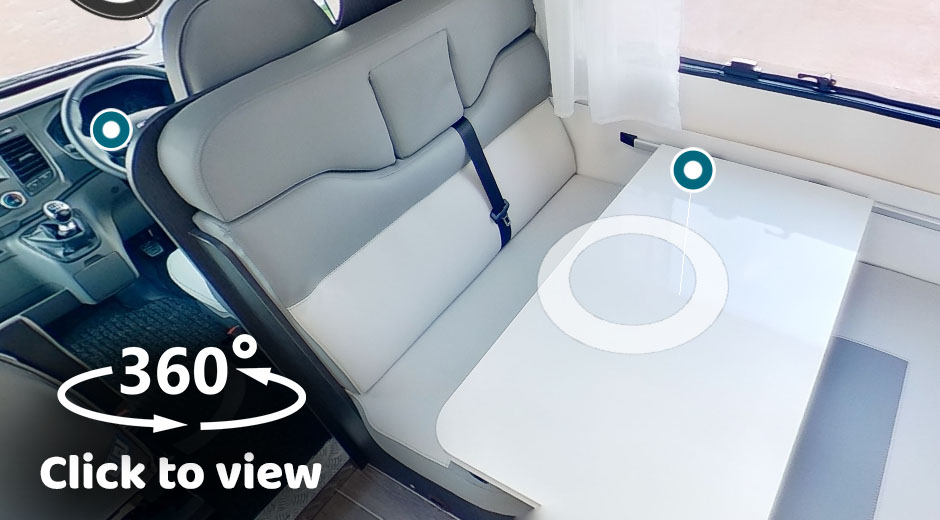 Zefiro Motorhome Video Guide
---
TECHNICAL DATA
---
Engine: 2300cc, JTD, 130bhp. Diesel
Transmission: Six speed manual, right hand drive, Cruise Control
Equipment: Radio with multimedia connection. Colour reversing camera, Bluetooth Connectivity, USB port, 2 cab lighter sockets (12v), Cab Air Conditioning.
Seating: Two in front on captain's seats with 3 point inertia belts, four in rear belted seats, four 3 point inertia seatbelts.
---
HABITATION
---
Sleeping: Over cab double bed, Rear bunk beds, Bed in dinette area.
Dining: Passenger seats swivel to face interior. Lounge seating around movable table for 4 people
Fridge: Huge capacity with freezer – runs on vehicle battery (whilst in motion), 220v mains, or gas.
Cooker: Hob with 3 gas burners, gas grill, gas oven.
Water: 100 litre fresh water tank, draining to waste tank.
Heating: Blown air heating runs on gas.
Lighting: Supremely well lit with LED direct and indirect lighting, also low level night time blue LEDs.
Storage: via external & internal lockers, high level cupboards and wardrobe with clothes rail.
Bathroom
Electric flush toilet, shower unit & basin. Pumped hot water from gas / electric boiler.(Vehicle must have water in tank to operate correctly)
Energy: Mains hook-up cable. One 6kg butane cylinder included in vehicle (full bottle can be purchased). Solar panel on roof.
---
VEHICLE DIMENSIONS
---
External Width 2.35 m
External Height 3.20 m
External Length 6.99 m
Gross Vehicle Weight 3,500kg
---
VEHICLE INVENTORY
---
• hook up cable
• first aid box
• hose pipe
• whistling kettle
• ignition lighter
• fire blanket
• fire extinguisher
• cutlery
• crockery
Motorhome Hire Checklist
Here are a few things to bear in mind when setting off and setting up:
---
Setting off checklist
---
Here's a list of some of the things you may need to do when you head off with your motorhome. You might even consider laminating your checklist if there's a chance of rain.
– When you leave home the first couple of points may already be covered, but you'll need to remember them when you leave a campsite.
– Turn off the gas at the cylinder
– Empty the fresh and waste-water tanks and clean out any toilet cassette in an appropriate place
– Check the motorhome's windows and roof lights are closed, internal doors and cupboards are closed, loads are safely secured and the habitation door is locked
– Check the handbrake is on, especially if you have released it to turn the front seats to make up a bed
– Raise the corner steadies, if appropriate
– Remove any chocks
– Pull clear of the pitch and check the area for anything left behind
---
Setting up
---
Once you've reached your destination you'll probably want to set up a few things to make life comfortable. Again, you can print this out to take with you on holiday.
– When you first arrive on site, ask whether there's a motorhome service point. If so, you can fill up with water before you reach your pitch
– Once on your pitch, use ramps under the wheels to level your vehicle, if necessary
– Consider chocking the wheels, especially with vehicles that require the handbrake to be taken off so the driver's seat can be turned to make a bed
– Wind down the corner steadies if you have any
You're now ready to use your motorhome, but there are some final preparations you may want to make before you can really relax. Depending on the complexity of your unit, they may include:
• Connecting the mains power cable to the motorhome and on to the hook-up point, checking the residual current device (RCD) is working correctly
• Turning on the fridge
• Collecting fresh water
• Positioning the waste-water collector
• Adding toilet fluids
• Turning on the gas
• Turning on the water heater when you're sure it's full of water