4 week tour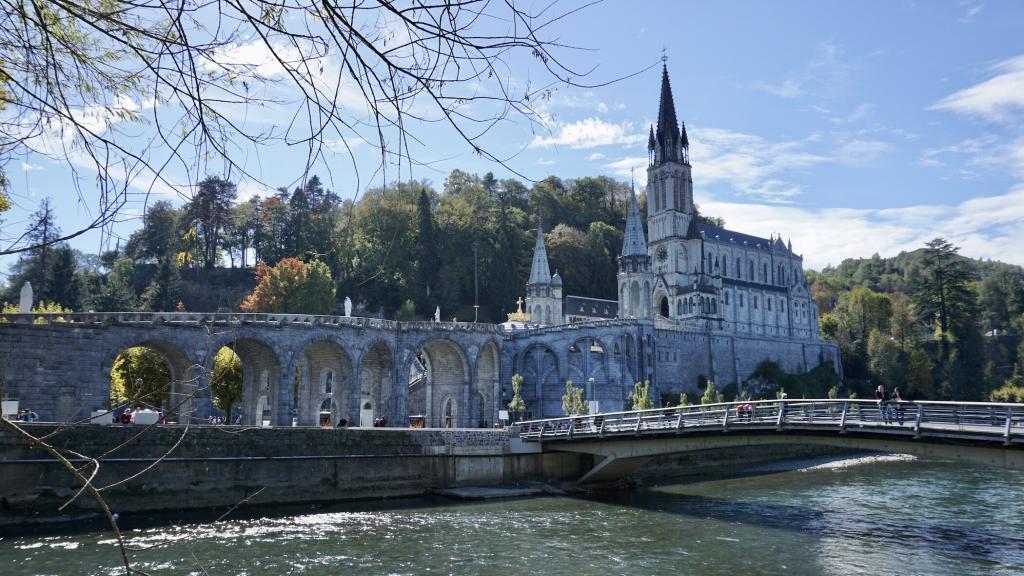 NEVERS – PARAY LE MONIAL – ARS – ANNECY LA SALETTE-SETE – LOURDES – POITIERS, & LISIEUX
Friday 16.00 HRS Day 1
Collect Motorhome at 16.00 from our Wigan Branch or Heathrow Branch.
Distance:- Drive to Dover is 300 miles.
Time:- Allow 6 hrs
Saturday, Sunday, & Monday Day 2, 3, & 4
We will meet up at Dover on the Saturday morning ferry .We include access to the exclusive, comfortable Club lounge which includes free champagne, tea, coffee and biscuits, which is a supplement on the normal fare.
DOVER-CALAIS-Saint Illiers la Ville
We will leave Calais at approx. 14.30 en route to St. Illiers where our first site with mains hook-up is awaiting. En route stop at the hypermarket in Calais to stock up with goodies and perhaps fuel for the journey ahead.
Campsite for evening:-"Domaine d'Inchelin" 4 Star site
Address: St Illiers la ville, 78980 Breval (page 75 Alan Rogers Guide)
Distance:- Calais-St. Illiers 175 miles
Time:- Allow 3 hrs.
Map:- Route map 1
The site is very close to the palace of Versailles, Chatres, and Rouen, which you may wish to visit. Paris is only a short distance away. Giverny, the finest garden in France, and the home of Monet is nearby, as is the beautiful gardens of Chateau De Courson.
Facilities include Shop, bar, BBQ, Washing machines, outdoor pool. 6 amp hookup. You will be staying here for three nights so you have plenty of time to relax or explore the surrounding attractions.
Camping Domaine d'lnchelin is set in the small town of Saint IlIiers la Ville and is popular if you wish to visit Paris as it combines a tranquil place to stay with the convenience of being only 3 miles from the railway station at Breval. Breval to Paris takes 1 hour by train. You can also travel from Mantes to Paris (35 minutes) or from Poissy which has access to the RER and thereby to the Disneyland@ Paris Resort. The Palace of Versailles is also within easy driving distance from the site and to the south is Chartres with its famous cathedral. This site has very large pitches all of which are marked out with hedges. The entrance to the site has an attractive courtyard, formed by the old farm buildings which house the sanitary blocks. About half the site is occupied by privately owned caravans and some tour operators are present. The emphasis on site is on peace and quiet and you may see peacocks roaming around the site!
CHATRES
Few cathedrals equal the grandeur of Notre-Dame de Chartres, often called the supreme monument of High Gothic architecture. For centuries, pilgrims making their way to Chartres have been inspired by the sight of its soaring towers, visible from miles away.
But pilgrims were traveling to Chartres long before the present cathedral was built in the late twelfth century. Druids had considered the place sacred as early as 100 B.C., and were converted to Christianity about 45 A.D. Then, in 876, according to tradition, the Sacred Tunic, worn by the Blessed Virgin at the time of Jesus's birth, was given to Chartres by Emperor Charles II (Charles the Bald). Over the centuries, this holy relic drew throngs of pilgrims from across Europe.
By the eleventh century Chartres had become a leading religious and intellectual centre. When much of the town was devastated by fire in June 1194, its cathedral – the fifth to occupy the site – was left in ruins. However, word went out that the Sacred Tunic had been miraculously spared and the resulting religious fervour was such that a new cathedral was built in the exceptionally short period of 26 years.
In the Middle Ages religious and worldly matters were tightly interlinked, and this was very much so in Chartres. The rebuilding of the cathedral drew contributions of every kind, from financial support to physical labour. Thousands of the faithful came to Chartres from far and wide, and peasants and nobles worked side by side at such tasks as pulling carts laden with building stone from remote quarries. By 1220 the new cathedral, the building that exists today, had risen from the ashes.
Pilgrimage continued and increased over the next five centuries, but came to a virtual halt with the French Revolution of 1789 and its aftermath. During that era, in 1793, the Sacred Tunic was cut up and dispersed; part of it, however, has been recovered and pilgrimage is once again on the rise.
The Cathedral Structure & Architecture
Notre-Dame de Chartres embodies a history of High Gothic architecture from the twelfth century to the sixteenth. While most of its construction was in the early years of the thirteenth century, numerous features were added later – the taller (and more ornate) of its famed spires, for example. The cathedral also includes several important features of the twelfth-century Romanesque church it replaced, among them its west facade with its noteworthy sculpture and stained glass.
The cathedral's twelfth – and thirteenth-century stained glass is among its bestknown features, particularly the rich "Chartres blue" used in many of its 176 windows. Much of the glass has been cleaned and restored in recent years.
The total length of the building is 428 feet, and its vault rises to 118 feet. Built on the Latin-cross plan, it was largely inspired by the Abbey of Saint-Denis in Paris. Also in Chartres, and also a magnet for pilgrims, is a holy well that is reputedly the resting place of first-century martyrs.
Behind the cathedral is the former Bishop's Palace, now the Musée des BeauxArts (Museum of Fine Arts), dating from the eighteenth century. Other churches in Chartres known for their outstanding architecture and early stained glass are the Eglise Saint-Aignan and the Eglise Saint-Pierre.
Leave site Tuesday morning for Nevers
Tuesday & Wednesday Days 5 & 6
St. Illiers to Nevers
We will leave St.Illiers at 13.00 hrs, or earlier if you wish, through the centre of Paris then along the lovely Loire valley to Nevers, perhaps including a visit to Orleans. This part of the journey is quite a long run of 259 miles so it may be better to leave early morning after Mass if you choose to see Orleans and participate in the Mass at these Cathedrals at 11-12 a.m.
Campsite for evening:- Camp Municipal Plan d'Eau Bagnade. Route de MagnyCours, 58160 Chevenon.( Page 429 Alan Rogers Guide)
Distance: 259 miles
Time:- Allow 4.30 hrs due to Paris traffic.
Map:- See route map 2-
Arrive at Nevers at approx 16.00 hrs. or later. All evening free to look around.
All day Tuesday and Wednesday to explore the area.
NEVERS (www.ville-nevers.fr)
Nevers is the place where St. Bernadette lived for 12 years after the eighteen apparitions of the Virgin Mary in Lourdes. St. Bernadette became a member of the Congregation of the Sisters of Nevers in 1867. St. Bernadette always suffered from asthma and died at 35 yrs of age in 1879 from this disease. Her remains, which are perfectly preserved can be seen at the convent of St. Gildard.
Evening Mass at the Chapel of St. Gilard for those who wish.
Leave Nevers on Thursday morning.
Thursday Day 7
(Nevers – Paray Le Monial)
Morning in Nevers where we can again visit the convent of St. Gildard.
Leave Nevers at 13.00 hrs or earlier for short run to Paray Le Monial for 1 night stopover.
Distance:- Nevers to Paray Le Monial 69 miles
Time:- 2 hours
Map:- Route map 4
Site:- Camping-Caravaning De Mambre 3 star
Camping-caravaning De Mambré ***, rue du Gué Léger, tél. 03.85.88.89.20, fax : 03.85.88.87.81, 120 emplacements
PARAY LE MONIAL
Paray Le Monial is where we will visit the birthplace of the devotion to the Sacred Heart of Jesus. Between 1673 and 1675 Our Blessed Lord appeared many times to St Margaret Mary Alacoque at the Visitation Convent. You may visit the "Chapel of Apparitions", and the Heiron Museum. He revealed His divine heart aflame with love for humanity and established a feast day set aside to honour his Sacred Heart.
Leave Paray Friday morning for Ars.
ARS sur FORMANS Friday Day 8
Paray le Monial – Ars sur Formans
Site:-Bois de la Dame ***, 01480 Ars-sur-Formans, tél. 04.74.00.77.23, 104
emplacements, Plan de pêche, tennis, jeux enfants, volley, ping-pong, pétanque, foot.
Campings : Camping municipal « Le Cerisier » **, 01330 Ambérieux-enDombes, tél. 04.74.00.83.40, 72 emplacements, Plan de pêche, pétanque, tennis,
équitation, randonnées pédestres et cyclistes – Camping du « Bois de la Dame » ***, 01480-Ars-sur-Formans, tél. 04.74.00.77.23, 104 emplacements, Plan de pêche, tennis, jeux enfants, volley, ping-pong, pétanque, foot – Camping « Entre Saône et Dombes » ***, 01480 Jassans-Riottier, tél. 04.74.60.95.44, 341 emplacements, Tennis, restaurant-glacier. Chambres d'hôtes et gîtes, à proximité.
Catering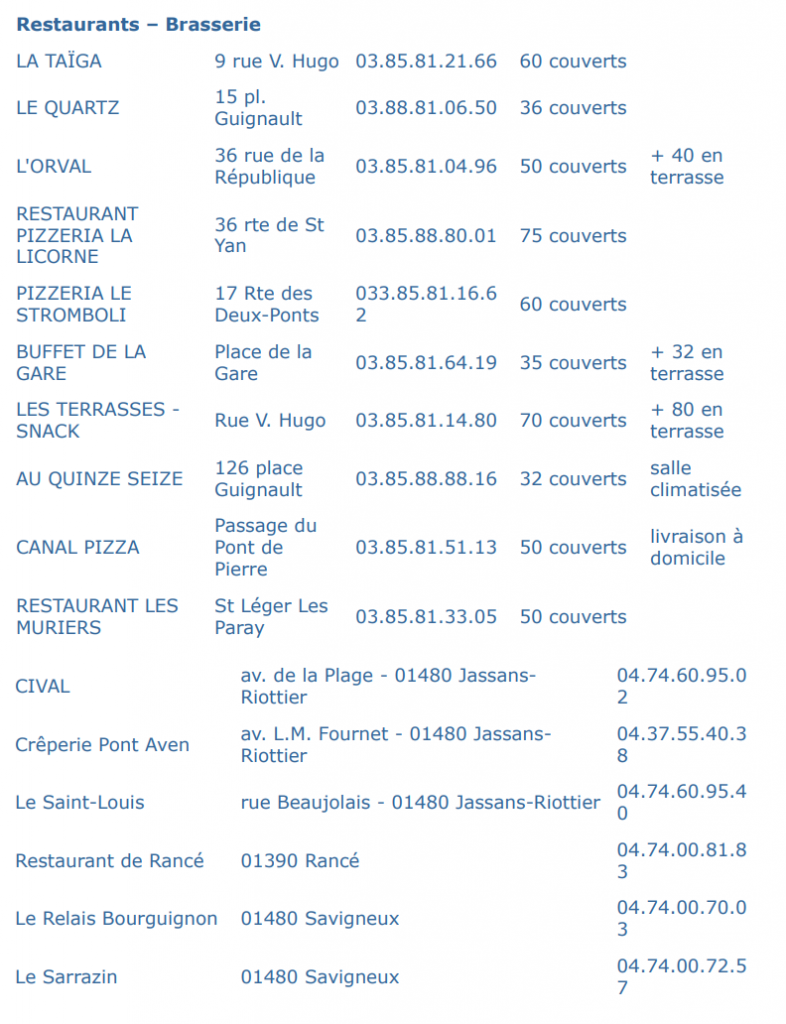 St. John Vianney
Feastday: August 4
St. John Vianney, Priest (Patron of priests) Feast day – August 4
Universally known as the "Cure of Ars)," St. John Mary Vianney was ordained a priest in 1815. Three years later he was made parish priest of Ars, a remote French hamlet, where his reputation as a confessor and director of souls made him known throughout the Christian world. His life was one of extreme mortification.
Accustomed to the most severe austerities, beleaguered by swarms of penitents, and besieged by the devil, this great mystic manifested an imperturbable patience. He was a wonderworker loved by the crowds, but he retained a childlike simplicity, and he remains to this day the living image of the priest after the heart of Christ. He heard confessions of people from all over the world for the sixteen hours each day. His life was filled with works of charity and love. It is recorded that even the staunchest of sinners were converted at his mere word. He died August 4, 1859, and was canonized May 31, 1925.
Lake Annecy- Saturday & Sunday Days 9 & 10
www.lac-annecy.com
Morning Mass at Ars
Leave Ars at 10.00 hrs Monday morning for journey to Annecy.As our route passes through the city of Lyon why not stop for a while.
Site at Annecy: Camping Le Lac, Talloires, 74290 Veyrier-du Lac (page 176 Caravan Europe Guide of Caravan Club)
The Visitation
The visitation monastery is the Mother House of the Order, founded in 1610 by Saint-Francois-de-Sales and Sainte-Jeanne-de-Chantal, whose relics are conserved in this sanctuary. Nowadays there are 190 visitandine convents established in various places throughout the world.
Saint Peter's cathedral
This Renaissance influenced facade, surmounted by a beautiful rose window is far from evoking the chapel of the Franciscans for whom it was built in 1535. It is true that shortly after, it became the alternative cathedral for the the Bishop of Geneva who took refuge in Annecy with his chapter. The interior looks like a beautiful late Gothic vessel with 3 naves of 5 bays. The chancel is formed of a polygonal apse whose decoration dates from the 18th century : you will notice the Mazzola oil-painting representing Saint Peter's delivery and on the right a descent from the cross, attributed to the painter Carravaggio. Set up as Dioceses Cathedral in 1822, it has also held the functions of Saint Peters's parish church since 1965.
Monday & Tuesday Days 11 & 12
(Annecy to La Salette)

Distance:- 132 miles
Time:- 2 hrs 42 minutes.
Route map 5
Site with Michelin at St.Laurant Beaumont. This site is a few miles west of La Salette.
In the Region
In any season, the Grenoble region offers much for the visitor, from worldfamous ski resorts in winter to spas, lakes, and Alpine scenery in the summer.
Grenoble itself is a large, cosmopolitan city. A cable car climbs to the Fort de la Bastille, a vantage point for panoramic views of the city and the River Isère. Other attractions within the city are the Musée Dauphinois, a regional museum housed in a seventeenth-century convent; the Musée de Peinture et de Sculpture, which offers a noted collection of modern art that includes the work of Picasso, Gauguin, Matisse, and Modigliani; and the church of Saint Laurent, whose sixthcentury crypt is on of the oldest Christian structures in France.
North of Grenoble, in the Chartreuse Mountains, is the old town of Chambéry with its fourteenth-century Château des Ducs de Savoie. The Gothic château has impressive stained glass and a replica of the Shroud of Turin.
The spa town of Aix-les-Bains on the Lac du Bourget has had thermal baths since Roman times. The Roman Temple of Diana, dating to the second and third centuries, now houses an archaeology museum.
Across the lake from Aix-les-Bains, and accessible by regular boat service, is the Abbaye de Hautecombe, where mass is celebrated with Gregorian chant.
Within easy access of Grenoble are numerous Alpine reserves, among them the Parc du Vercors, the Parc des Ecrins, the Parc du Queyras, and the Parc de la Vanoise. The Italian Alps are to the east, Lyon and the Rhone valley to the west, and Provence to the south.
Arrive at site at 16.00 hrs. for 2 night stay..
Located in a high alpine pasture in the French Alps, La Salette is the site where the Virgin Mary appeared in 1846 to two shepherds, Melanie Mathew and Maximin Gird. Our Lady appeared to these shepherds crying, lamenting over the lack of observance of Sundays and the profaning of her Son's holy name.
A spring forever marks the spot where the Virgin appeared and where millions of pilgrims come in order to drink the fresh spring water and to pray.
The stunning mountain scenery and lush mountain trails make La Salette one of the most spectacular pilgrimage sites in France, with a beautiful Basilica built to honour the Virgin Mary. In 1996 La Salette celebrated the 150th anniversary of Our Lady's first appearance.
On September 19, 1846, two peasant children were tending a small herd of cows in a mountain glen near the village La Salette in the French Alps. Suddenly a "beautiful lady," resplendently dressed, appeared before them in a globe of shining light. She was weeping.
The lady gave the two children a message: Unless there was repentance from widespread religious apathy, there would be universal calamity. She asked them to pray and told each of them a secret.
The children–15-year-old Melanie Mathieu-Calvat and 11-year-old Maximin Giraud–were generally disbelieved. But when a spring suddenly appeared at the spot where they saw the apparition and numerous miraculous cures were ascribed to its waters, word spread and pilgrims began coming to the spring in growing numbers.
There was considerable scepticism; it was noted that the children had virtually no secular or religious education–a factor that was argued both in favor of the authenticity of their vision and against it.
The bishop of nearby Grenoble, Philibert de Bruillard, began an inquiry that proved unusually exhaustive, continuing without any announcement for five years. He then ruled that the apparition had the appearance of truth and that there were grounds for believing in it and in the resulting miracles. The result was the authorization of devotion to Our Lady of La Salette.
The children passed the secrets the lady had told them to Pope Pius IX, who confirmed La Salette and the cult. A proper Mass and Office was granted nearly a century later, in 1942.
Neither Maximin nor Melanie became manifest saints, but the authenticity of a vision is not dependent upon the persons to whom it is revealed. Maximin, who died at age 40 in nearby Corps, was quoted as saying "Our Lady left me as I was." Melanie, who lived until 1904, made several efforts to become a religious but did not succeed. Neither ever repudiated their account of the vision.
In 1852, after completing his investigation, Bishop de Bruillard organized a group of diocesan priests to serve at the church being built on the spot at which the apparition took place. From this group grew the Missionaries of Our Lady of La Salette. Their early work was in Norway and Switzerland, and missions were established later in Madagascar, the United States, Canada, Poland, and South America. In the United states, the order has established a number of seminaries and colleges.
Evening in La Salette and all day Tuesday. Leave Wednesday morning or at your own convenience.
Wednesday, & Thursday & Friday Days 13 , 14, & 15
(La Salette- Sete )
www.ville-sete.fr
Distance:- 242 miles
Time:-4 hrs 13 minutes
Route map:- 6
Site Les Tamaris page 70 C11 4 star site on long sandy beach.
Leave Salette Saturday at 11.00 hrs for the half way point to Lourdes.
Lourdes- Saturday, Sunday & Monday days 16,17,18
Sete-Lourdes
Distance:- 244 MILES
Time:- 3 HRS 40 MINUTES
Map:-
Site :- Camp du Loup, Route de Foret, 65100 Lourdes. (05 62 94 23 60 )Page 378 of Alan
Rogers Guide.
Arrive Lourdes 19.00 hrs. or later.
Lourdes is situated at the foot of the Pyrenees Mountains, nestled between the spectacular mountain and the river Gave de Pau.
It has been one of the most important pilgrimage sites for over 140 years since Our Lady appeared to St Bernadette with the words "I am the Immaculate Conception"
Evening around Lourdes with candlelit procession.
Lourdes
Lourdes, in the French Pyrenees, is the most frequented pilgrimage site of the Catholic world, surpassing both Rome and Jerusalem.
The town has a population of only 18,000, but between Easter and October each year it draws between four million and five million visitors, making it France's most often visited city after Paris.
Lourdes has been drawing pilgrims since 1858, when the Blessed virgin appeared to 14-year-old Bernadette Soubirous, the daughter of an impoverished local miller, in the Massabielle grotto along the Gave de Pau river. There were 18 further apparitions over the following few months. During the ninth of these, Bernadette dug at the ground with her hands and a gush of water was released from a previously unknown spring. Belief spread that the water had miraculous healing powers, and crowds began to accompany her to the grotto. As the apparitions continued, the throng grew to about 8,000 and armed soldiers had to escort her.
Local church authorities remained skeptical for some time. After a four-year investigation, the miracle was authenticated by Rome, the visions proclaimed authentic, devotion to Notre Dame de Lourdes authorized, and a sanctuary erected over the grotto. The first organized procession was held in 1864.
The grotto has since been restored to the condition it was in at the time of Bernadette's visions, although the river has been diverted some distance from its entrance. A statue of the Virgin stands in the natural recess in which the apparition first appeared. At the statue's foot are inscribed the words in the Gascon dialect that Bernadette heard on March 25, 1858: "Que soy era Immaculada Councepciou (I am the Immaculate Conception.)"
Bernadette became a nun and died in 1879, at the age of 35, at a convent in Nevers, France. She was canonized in 1933.
The annual pilgrimage season begins at Easter, when Lourdes is the site of the Festival International de Musique Sacrée, and continues through October. There are now six official annual pilgrimages, the most important on August 15, the Feast of the Assumption, and that date marks the height of the season.
The Caverne des Apparitions, better knows as La Grotte, where Bernadette experienced the apparitions, is the focus of the town. During the pilgrimage season there are long lines, including many elderly or ailing pilgrims seeking miraculous cures.
Among other sites related to Bernadette in Lourdes is the Musée Bernadette, a museum that is devoted to her life and that also offers an illustrated history of the pilgrimages. There is also the Moulin des Boly, the mill where she was born on January 7, 1844, and the "shabby little room" in the Cachot, a disused jail where her family lived at the time of the apparitions; both are open to visitors.
Lourdes has two nineteenth-century basilicas (Basilique Supérieure, 1871, and Basilique du Rosaire, 1889) in the New Gothic and Roman-Byzantine styles, respectively (one guidebook comments: "Their spiritual function far outweighs their aesthetic appeal"), as well as the vast underground Basilique Saint-Pie X, the world's largest underground church. The latter was consecrated in 1958 to mark the centenary of the apparitions and can hold up to 20,000 worshipers.
In season, particularly during the weeks following August 15, Lourdes is extremely busy and crowds can be daunting. While many visitors are true pilgrims, many are simply sightseers.
In a mixture of religion and commerce, there are scores of souvenir shops offering religious keepsakes ranging from the inexpensive to the quite expensive. Restaurants of all types abound, from haute cuisine to pizza.
Lourdes has more than 350 hotel rooms at all prices. Some hotels are run by religious organizations and are specifically for pilgrims as opposed to tourists. Our of season, there are few pilgrims or tourists. As a consequence, most shops are shuttered and the majority of the restaurants and hotels are closed.
Earlier History
Before 1858, Lourdes was a much-disputed fortress. A former feudal chateau, Lourdes Castle, perched on a rocky outcrop, became a prison in the seventeenth century and was later a barracks. It is now Musée Pyrénéen, considered to be one of France's best provincial museums, devoted to popular customs and arts
throughout the Pyrenees and Béarn regions.
During your stay in Lourdes you will have the chance to celebrate daily Mass at the Grotto.
See Boly Mill where St Bernadette was born and the "Cachot", an abandoned prison where Bernadette's impoverished family lived.
Join your prayers with those of pilgrims from around the world as you pray for the sick, drink water from the miraculous spring, and submerge yourself in the healing baths.
You can walk the life sized Stations of the Cross overlooking the holy Grotto.
You may also visit the Basilica of St. Pius X, the worlds largest underground church.
Leave Lourdes Tuesday morning.
Tuesday, Wednesday, Thursday, Fridays Days 19, 20, 21, 22
(Lourdes to Royan)
4 Nights in Royan
Morning Mass in the Basilica at 11.00 a.m.
Leave Lourdes at 13.00 hrs on Tuesday
Site:- L'Estanquet. ,ref A10 4 star site. Caravan Club European Guide. Leave Royan Saturday morning.
Royan to Poitiers Saturday, Sunday, Days, 23 & 24
Arrive Saturday afternoon.
Evening Poitiers
Site:- Le Parc de Loisirs de Saint-Cyr. (Site L09 in Caravan Club European Guide) 10 amp electric hook-up. This is another 4 star site within its own 750 acre leisure complex.
Two nights here in Poitier.
POITIERS
The ancient city of Poitiers in west central France has been an important religious center since the fourth century, largely because of its first bishop, the scholarly Saint Hilary.
Its roots go considerably deeper. Poitiers sits on a promontory at the confluence of the rivers Clain and Vienne that was occupied from very early times. In the Roman era, it was known a Limonum and was the seat of the propraetor of Aquitania from Caesar's's conquest of Gaul until the barbarian invasion of 276.
But it was Hilary–the leading theologian of Western Christianity of his time– whose influence brought the city to prominence as the destination of pilgrims and a hub of religious activity in the early days of Christianity in Europe. Many signs of that early importance remain, among them the oldest Christian building in France: the Baptistère Saint-Jean (Baptistery of Saint John).
Hilary was born into a distinguished family at Poitiers in 315 and trained in philosophy an the classics. He married and had a daughter, Abra, before his conversion to Christianity in early manhood. His conversion came about, he wrote, through his study of the Bible and how its teachings contrasted with the materialism of pagan mythology.
Hilary became Bishop of Poitiers in 353 and soon became embroiled in the controversy over Arianism, a heresy that negates the Holy Trinity by denying the divinity of Christ. His anti-Arian efforts resulted in his exile to Phrygia (in what is now central Turkey) from 356 to 359 by Emperor Constantius II. His opposition to Arianism continued; however he was released from exile in large part because his enemies in Phrygia regarded him as a "sower of discord and the troublemaker of the Orient." He was allowed to return to his episcopacy at Poitiers in 360, and his persecution over Arianism ended with Constantius's death the following year.
Hilary spent the rest of his life repairing the damage Arianism had done to the church in Gaul and Italy. He preached, wrote, and suffered exile in defence of the divinity of Christ, strengthening the faith of the clergy and laity in this fundamental dogma.
Soon after his return to Poitiers, Hilary had one of his disciples, who was later to be Saint Martin of Tours, found the nearby monastery of Ligugè , probably the first monastery in France.
Hilary died at Poitiers in 368 (the date is uncertain) and was proclaimed a doctor of the church by Pope Pius IX in 1851. His tomb is in the eleventh-century Church of Saint-Hilaire-le-Grand, one of Poitiers's many noteworthy religious monuments.
Poitiers's importance increased over the centuries. Clovis defeated the Visigoths near the city in 507, and it became part of the Frankish kingdom; in 732, Charles Martel stopped an Arab expedition from Spain near Poitiers; as the capital of the Duchy of Aquitaine, it was fought over for years by the French and English. Charles II often held court there and founded a university. Joan of Arc went there in 1429 to have her mission studied and approved.
Benedictine abbeys arose in Poitiers, then other religious houses founded by Jesuits (1604), Calvairiennes (1617), and Brothers of Saint John of God (1619). John Calvin was among numerous scholars associated with Poitiers, and the first Calvinist confession of faith was composed there in 1558.
Leave Monday morning for Liseux.
Monday, Tuesday & Wednesday. Days 25, 26 & 27
(Poitiers to Lisieux)
Distance:-336 miles
Time:-5 hrs
Site in Liseux:-La Ferme sous les Pommiers, Ave Jean XXX111, 14100 Lisieux (02 31 61 15 16) www.sous-les-pommiers.com Page 375 Alan Rogers Guide. Just behind Basilica.
Morning in Poitiers.
Leave Poitiers at 13.00 hrs or at your discretion. On route why not stop at Tours, or Le Mans, or Angers
Tours
In the early Middle Ages, Tours–in the Loire valley of west central France–was the most famous and most frequented pilgrimage center in Christendom. For centuries, monarchs and popes were among those who came to pay homage or seek favor at the shrine of Saint Martin.
Martin was Bishop of Tours from 371 to 397, and two aspects of his episcopacy are of basic importance: He evangelized the countryside, establishing the first six rural parishes in France, and he gave monks and important role in this apostolate.
Martin was born about 316 along the Danube in Upper Pannonia, now part of Hungary, and was raised in Pavia, Italy. His parents were pagans, but he became a catechumen on his own initiative at about the age of 10. When he was 15, he enrolled in the imperial cavalry, a move that may have been required because he was a Roman officer's son.
While Martin was stationed at Amiens, an incident is said to have taken place that tradition has made famous. According to the legend, on a bitter winter day he saw an old man at the gates of the city, starving, nearly naked, and begging for alms. Martin removed his own cloak, but it in half with his sword, and gave one piece to the beggar. That night, in his sleep, he saw Christ–dressed in the half of the cloak he had given away–and heard him "Martin, yet a catechumen, has covered me with this garment."
According to the contemporary historian Sulpicius Severus, the young soldier "flew to be baptized." Thereafter, he described himself as "a soldier of Christ" rather than of Caesar, and within five years he was discharged.
Martin went to Poitiers, where the future Saint Hilary was bishop, and became one of Hilary's disciples. Some time later, he returned to his home and converted his mother and others to Christianity, but his zealous activity there against Arianism (a heresy that negates the Holy Trinity by denying the divinity of Christ) put him in disfavor and forced him into exile.
Martin entered the monastic life at Milan but was driven away by the Arian bishop Auxentius, whereupon he went to the island of Gallinaria in the Gulf of Genoa. Hilary, meanwhile, had been exiled by the Arian Emperor Constantius II and was away from France during the same period. When Hilary was allowed to
return to Poitiers in 360, Martin also returned.
Martin established at Ligugé (about five miles south of Poitiers) what may have been the first French monastery, a community of monk-hermits. He lived there for a decade, preaching throughout the countryside, and numerous miracles were attributed to him.
In 371, having been drawn to Tours by a ruse, Martin was consecrated its bishop, an office he is said to have "accepted with great reluctance." Soon afterward, he established another monastic center at nearby Marmoutier and lived there as a monk while carrying out his duties as bishop.
Every year he traveled through the district, visiting each of the outlying parishes. His apostolate extended to Chartres, Paris, Autun, Sens, and Vienne, and he was in a remote part of his diocese–and more than 80 years old–when he died at Candes on November 8, 397.
Legend holds that as his body was being carried by boat to Tours, trees suddenly sprouted leaves, flowers bloomed, and birds sang. In France, the warm period after frost has since been known as "Saint Martin's Summer".
A vast crowd attended Martin's burial at Tours. According to Sulpicius Severus, who had become one of his disciples, more than 2,000 monks were among the mourners.
The Abbey of Saint-Martin became famous. Successive kings of France preserved Martin's cape and kept for themselves the title Abbot of Saint Martin. Martin became the patron saint of France and his feast is November 11, the date of his burial.
The shrine was highly frequented for the next 800 years, but it lost importance in the early thirteenth century as Rome, the Holy Land, Santiago de Compostela in northwestern Spain, and Mont-Saint-Michel in Normandy became more popular.
The monastic community founded at Ligugé grew into a great monastery that continued until 1607 and was revived by the Solesmes Benedictines in 1852.
In 853, a Norman invasion led to the saint's relics being moved to Auxerre, but they were returned in 885. In all, the relics were dispersed three times: in 853, in 1562, and in 1793, during a campaign of dechristianization late in the French Revolution. The saint's tomb was rediscovered late in 1860.
The modest sanctuary built to hold Saint Martin's remains was replaced in the thirteenth century by a sumptuous basilica. It was sacked by the Huguenots in 1562 during the Wars of Religion, and all that remains are two restored towers.
Today, the new Basilica of saint-Martin, completed in 1924, occupies a corner of the old structure and claims to preserve the tomb in its original location.
LISIEUX
Lisieux is, of course, the home of St.Therese whom Pope Pius X called "the greatest saint of modern times". Her extraordinary love for God and service to humanity can be imagined as you visit the Basilica Cathedral of St.Peter, and Les Buissonets, her family home. St Therese was called the "little flower" and on display are relics, clothing, and personal objects which belonged to her. St Therese was a Carmelite sister and had a vision of the Virgin Mary smiling at her during her illness. She died in 1897.
Tuesday & Wednesday
All Day in Lisieux
Morning Mass at the Cathedral.
More time around Lisieux or the Basilica.
Rest of day exploring the Lisieux and Normandy countryside.
Therese Martin was the last of nine children born to Louis and Zelie Martin on January 2, 1873, in Alencon France. However, only five of these children lived to reach adulthood. Precocious and sensitive, Therese needed much attention. Her mother died when she was 4 years old. As a result, her father and sisters babied young Therese. She had a spirit that wanted everything.
At the age of 14, on Christmas Eve in 1886, Therese had a conversion that transformed her life. From then on, her powerful energy and sensitive spirit were turned toward love, instead of keeping herself happy. At 15, she entered the Carmelite convent in Lisieux to give her whole life to God. She took the religious name Sister Therese of the Child Jesus and the Holy Face. Living a hidden, simple life of prayer, she was gifted with great intimacy with God. Through sickness and dark nights of doubt and fear, she remained faithful to God, rooted in his merciful love. After a long struggle with tuberculosis, she died on September 30, 1897, at the age of 24. Her last words were the story of her life: "My God, I love You!"
The world came to know Therese through her autobiography, Story of a Soul. She described her life as a "little way of spiritual childhood." She lived each day with an unshakeable confidence in God's love. "What matters in life," she wrote, "is not great deeds, but great love." She lived and taught a spirituality of attending to everyone and everything well and with love. She believed that just as a child becomes enamored with what is before her, we should also have a childlike focus and totally attentive love. Therese's spirituality is of doing the ordinary, with extraordinary love.
Therese saw the seasons as reflecting the seasons of God's love affair with us. She loved flowers and saw herself as the "little flower of Jesus," who gave glory to God by just being her beautiful little self among all the other flowers in God's garden. Because of this beautiful analogy, the title "little flower" remained with St. Therese.
Her inspiration and powerful presence from heaven touched many people very quickly. She was canonized by Pope Pius XI on May 17, 1925. Had she lived, she would have been only 52 years old when she was declared a Saint.
"My mission – to make God loved – will begin after my death," she said. "I will spend my heaven doing good on earth. I will let fall a shower of roses." Roses have been described and experienced as Saint Therese's signature. Countless millions have been touched by her intercession and imitate her "little way." She has been acclaimed "the greatest saint of modern times." In 1997, Pope John Paul II d eclared St. Therese a Doctor of the Church – the only Doctor of his pontificate – in tribute to the powerful way her spirituality has influenced people all over the world.
The message of St. Therese is beautiful, inspiring and simple.
Thursday Day 28
(Liseux to Calais)
Distance:-202 miles
Time:- 4hrs
Morning Mass in the Basilica.
Leave Liseux at 11.00 hrs for the last part of our French journey to Calais.
Arrive Calais at 15.00 hrs.
Shopping at the supermarket for enough goodies to pay for the whole trip!!
Ferry Calais to Dover at 19.00 hrs
Arrive Dover at 19.00 hrs U.K. time.
Friday Day 29
Vehicle returned to Depot in the morning.