The Scotland NC500, notoriously one of the world's most beautiful 'road trip' routes discovered. This specific northern route takes you on Scotland's most iconic inland and coastal roads around the wonderful north coast of Scotland, starting and ending at inverness castle.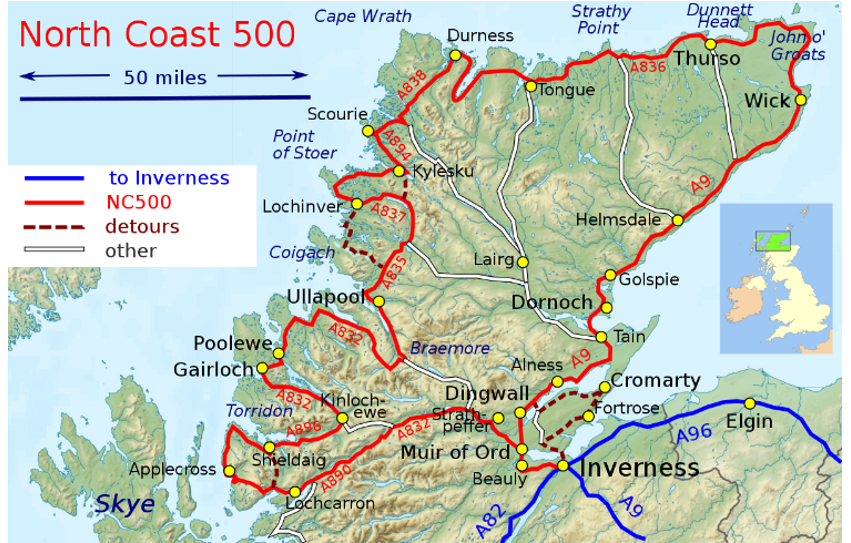 What to expect on Scotland's North Coast NC500
From first-hand experience you can expect to see scenery like never before, from medieval castles set upon jagged pinnacles to vibrant blue lakes surrounded by immense Munroe's and forestland. Safe to say your camera is unquestionably in for a treat. There is also a small chance of a glimpse of the northern lights concluded the summer months. Below is a sneak peak of some of the sights/activates you'd expect to see during your 'staycation'.
The Whaligoe Steps
The whaligoe steps are a man-made stairwell that descend into a natural harbour located between two sea cliffs. The steps zig zag down the sea cliff and there is no elevator back to the top, so ensure your walking boots are packed and ready!
Motorhome/campervan friendly roads
Without doubt the NC500 boasts some of the world's most spectaculars road surfaces as shown above. From first-hand view you could easily mistake this route as a New Zealand road trip. So pack your sunny's and take it all in… YOU'RE IN FOR A TREAT!
To conclude the NC500 is a necessity for any road trip or campervan fanatic. We can't stress how much there is to see and do and tailors for everyone and anyone. Easicampers where a vital part of helping us select this route and provided us with excellent customer service and advice/knowledge throughout our summer holiday on the NC500. I couldn't recommend the company and route anymore and for all you intending on doing the NC500… You're in for a luxury!
"mar sin leat"
(Goodbye)